Friday, October 15, 2021 | 6:30PM – 8:00PM
Watch a Replay of the Event
Each year State Comptroller Thomas P. DiNapoli commemorates Hispanic Heritage Month by honoring prominent members of the Latino community. This year's reception will include a fireside chat with the Comptroller and his honorees Ruben Diaz, Jr., Bronx Borough President, and Hilda Gerena-Diaz, Assistant Chief of Operations at the Port Authority of New York and New Jersey.
2021 Honorees
---
Ruben Diaz, Jr.
Bronx Borough President
Hilda Gerena-Diaz
Assistant Chief of Operations at
Port Authority of NY & NJ
About Hispanic Heritage Month
Hispanic Heritage Month honors the achievements and cultural contributions of Hispanic-Americans to our nation and State. It is observed from September 15 to October 15 to encompass important milestones in Hispanic history, including the independence of many nations, and the Día de la Raza.
New York is home to 3.9 million residents claiming Hispanic or Latino ancestry, with the largest groups representing Puerto Rico, the Dominican Republic, Mexico, Ecuador, El Salvador and Colombia.
Comptroller DiNapoli's Economic Report on the Bronx
In June 2021, Comptroller DiNapoli held a press conference with Bronx Borough President Ruben Diaz, Jr., and other community leaders to announce his office's report on the economic impact of COVID-19 in the Bronx. According to its findings, the Bronx was hit harder than any other borough by several measures, and the pandemic's impact exacerbated economic and social inequity, threatening recent years of growth and socioeconomic improvements in the Bronx.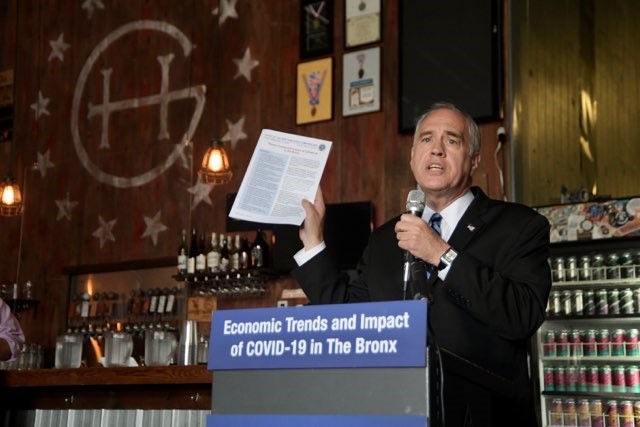 "More than a year of sustained damage caused by the COVID-19 pandemic has taken a toll on the Bronx, throwing it off its pre-pandemic course," Comptroller DiNapoli said. "The borough has proven its resilience before, with its recent long period of renewal aided by government efforts to provide basic services and boost economic activity and quality of life in the borough. The road to recovery will take time, and it is crucial that the state and city ensure that the Bronx receives its fair share of assistance to address the serious damage it has sustained."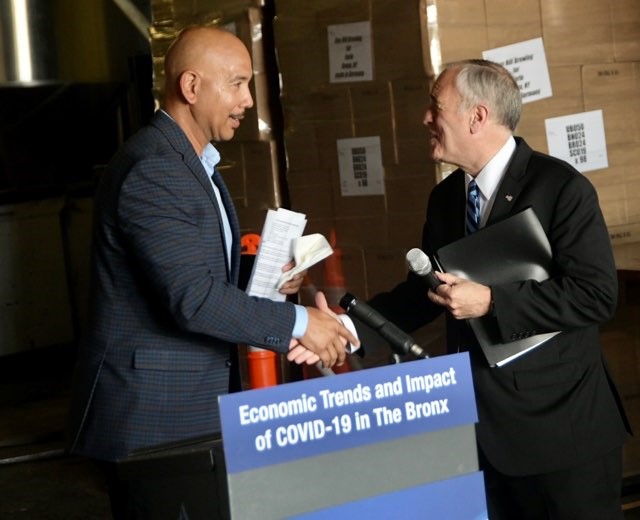 "Prior to the COVID-19 pandemic, The Bronx had record low unemployment and development was at an all-time high, we were trending in the right direction," said Bronx Borough President Ruben Diaz Jr. "While the pandemic hit our borough hard, we will come back strong and move forward with large infrastructure projects including the Bruckner-Sheridan Interchange, four new Metro-North stations, the renovation of Orchard Beach, and various development projects. I want to thank New York State Comptroller DiNapoli for releasing a comprehensive report shedding light on our borough and working to ensure The Bronx receives our fair share of assistance as we rebuild."
---