Pandemic Brings Jump in Medicaid Enrollment
After a modest decrease of 0.3 percent on an average monthly basis in SFY 2019-20, Department of Health (DOH) Medicaid enrollment rose significantly in the wake of the COVID-19 pandemic near the end of SFY 2019-20 and into the new fiscal year. The Division of the Budget estimated in August 2020 that enrollment would increase by more than 450,000, to over 6.6 million, in SFY 2020-21.
Medicaid Spending Increased in SFY 2019-20, Largely Due to Higher State Share Payments
Compared to the year before, combined local, State and federal Medicaid spending increased by $3.4 billion (4.7 percent) to $75.9 billion in SFY 2019-20. This increase largely reflects growth of $2.8 billion in State share Medicaid payments associated, in part, with the increase in the minimum wage, price and utilization growth, and the State takeover of the local share of Medicaid growth. State share spending is further influenced by a deferral of certain Medicaid payments with a State share total of $1 billion from SFY 2019-20 to SFY 2020-21, which according to the Division of the Budget was necessary to ensure compliance with the global cap limit for SFY 2019-20.
Children and adults represented 74.5 percent of all average monthly DOH Medicaid enrollees, but only 39.8 percent of the costs of DOH Medicaid claims for the State in SFY 2019-20. Elderly, blind and disabled enrollees made up 21.6 percent of eligible recipients, but accounted for 57.3 percent of DOH Medicaid claims costs.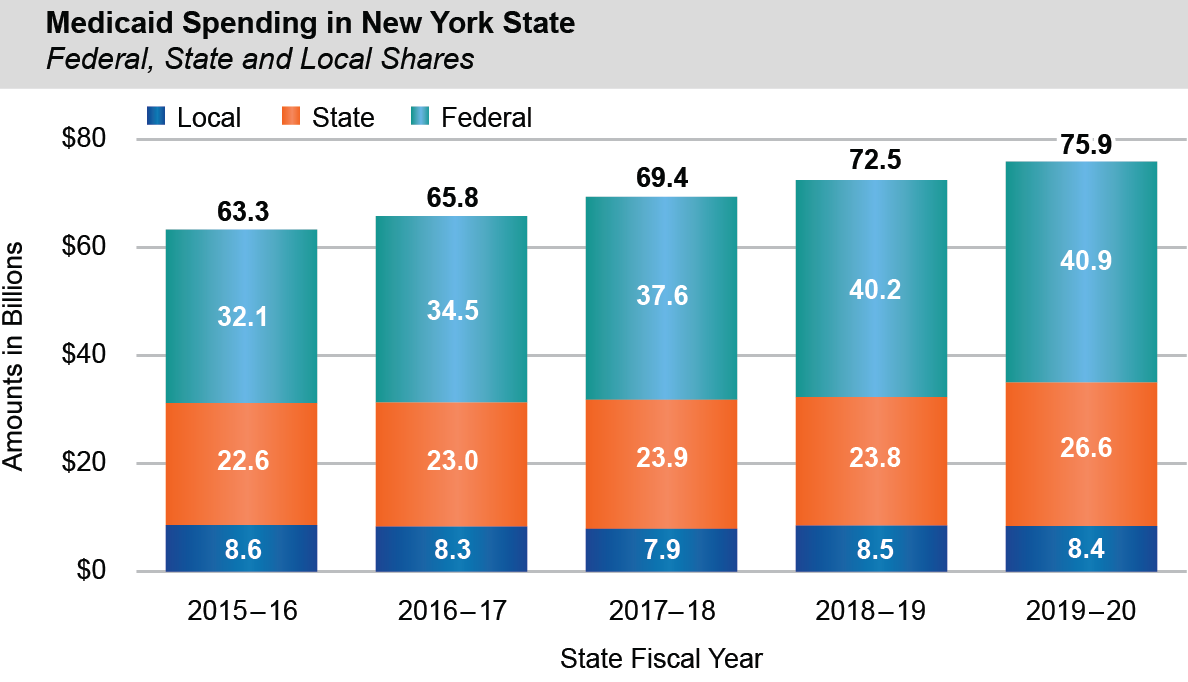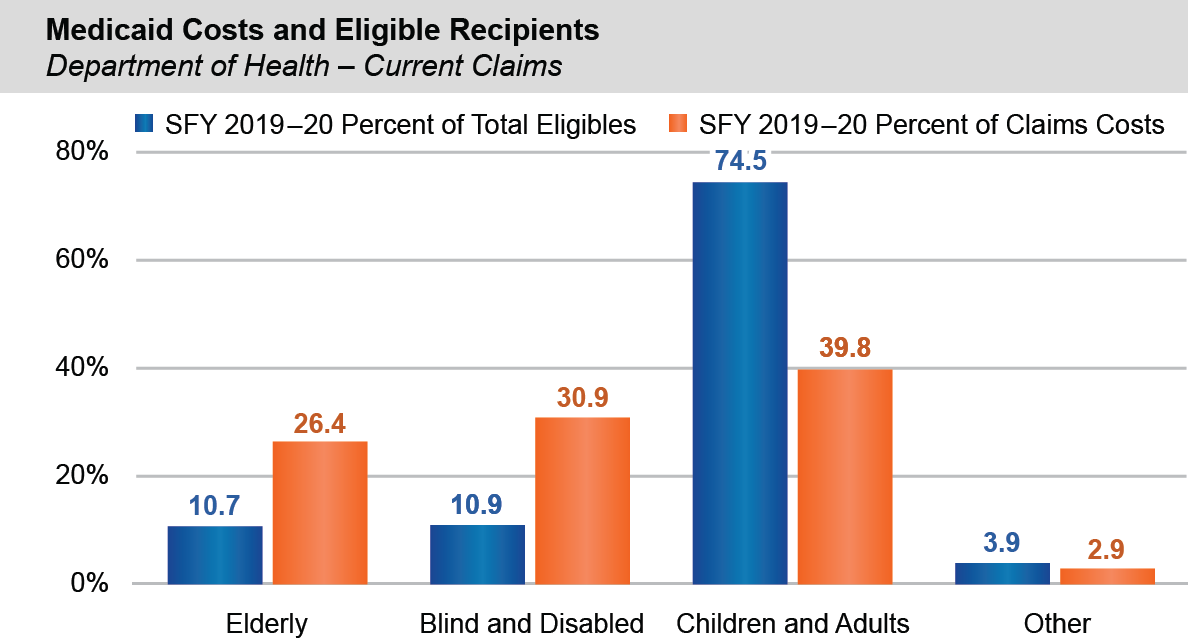 Essential Plan Shows More Moderate Enrollment Growth
Enrollment in the Essential Plan, which began in SFY 2015-16 and rose to more than 728,000 over its first three years, saw a modest increase of 3.5 percent to 800,438 in SFY 2019-20.
In 2015, New York State joined Minnesota to become the only states in the nation to establish a Basic Health Program, a new low-cost health insurance option authorized by the ACA and largely funded by the federal government. In New York, the program is known as the Essential Plan. It is available to individuals who are under 65, not eligible for Medicaid or the Child Health Plus (CHP) Program, without access to affordable coverage and with incomes at or below 200 percent of poverty level.
In SFY 2019-20, federal funds covered 98.1 percent or $3.8 billion in Essential Plan costs, with State funds covering the remaining 1.9 percent.
Over 7.4 Million New Yorkers Benefit from DOH Medicaid, Essential Plan or CHP
In January 2020, approximately 7.4 million individuals or more than one in three New Yorkers were enrolled in DOH Medicaid, the Essential Plan or CHP.