Inmate Populations and Crime Rates Continue Dropping
As of March 2020, approximately 56,137 inmates were held in 133 State and local correctional facilities, which include:

52 State correctional facilities;
64 county jail and correctional facilities; and
17 New York City correctional facilities.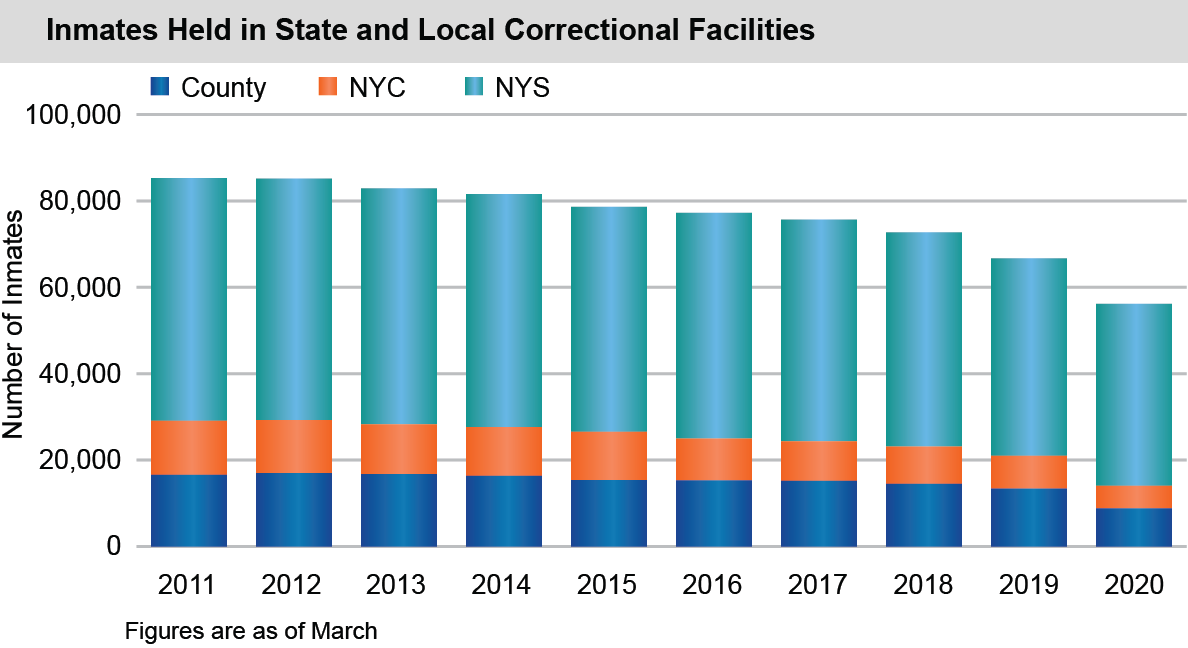 Since March 2011, the total inmate population has declined by 29,164 (34.2 percent), with the majority of the decline occurring in State correctional facilities, followed by county correctional facilities outside of New York City.
Over the last 10 years, the proportion of inmates aged 50 and over in State correctional facilities increased by 44.1 percent.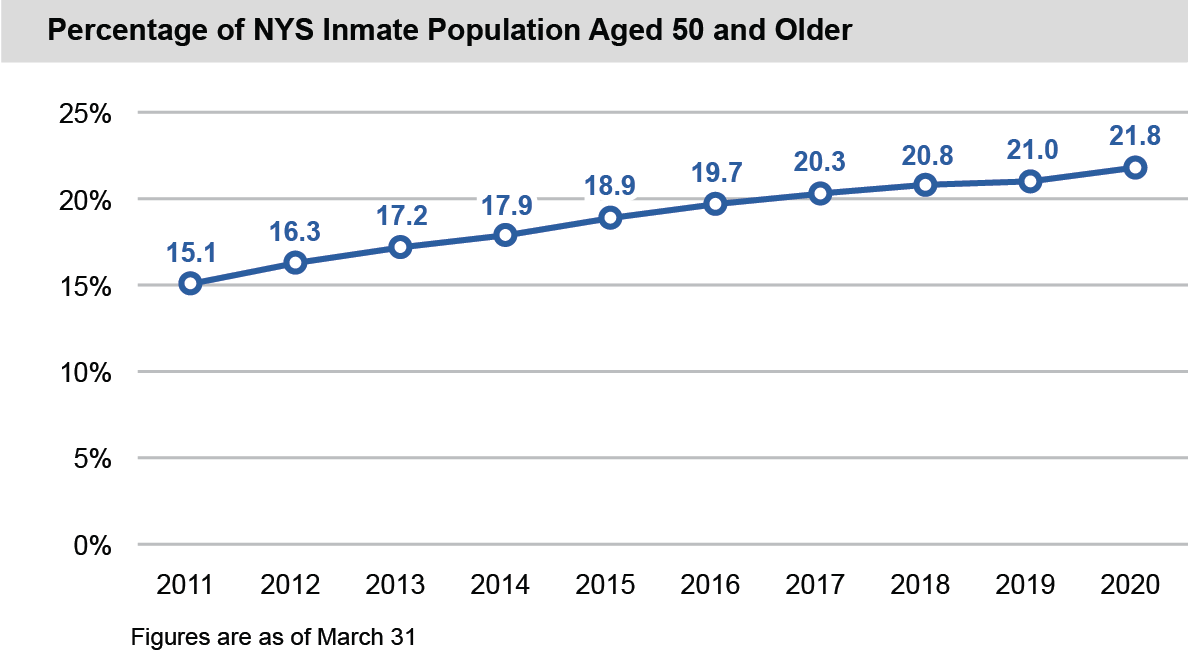 From 2009 through 2019, New York has closed 19 State correctional facilities. The State Fiscal Year (SFY) 2020-21 Enacted Budget authorizes the closure of an unspecified number of State correctional facilities during the year, as determined necessary for the cost-effective and efficient operation of the system, provided the Legislature receives 90 days' notice of any closure(s). As of August 2020, the Legislature has received no such notice.
Elimination of cash bail for most misdemeanor and non-violent felony offenses authorized by the SFY 2019-20 Budget and effective January 2020 may account for a portion of recent reductions in county and New York City jail populations. Further changes to State bail laws enacted in the SFY 2020-21 Budget that expand the list of crimes for which courts could set bail may serve to increase county and New York City jail populations over new baselines. The SFY 2019-20 Enacted Budget eliminated cash bail for most misdemeanor and non-violent felony offenses, effective January 2020, providing for release on an individual's own recognizance or with non-monetary conditions when deemed appropriate by a court.
From 2010 to 2018, the total number of crimes reported annually in New York State declined by 101,833 (22.6 percent). This trend reflects falling crime rates across most major categories of crimes.
Raising the Age of Criminal Responsibility to 18
As a result of legislation included in the SFY 2017-18 Enacted Budget and fully implemented in October 2019, adolescent offenders (AO) aged 16 and 17 years committing non-violent crimes are no longer processed as adults in the State's criminal justice system and instead receive rehabilitation services in facilities deemed age-appropriate.
For October 2019 through June 2020, preliminary data show 3,045 AO arrests for felony offenses; 2,372 AO arraignments in the Youth Part of Criminal Court; and 1,981 AO transfers to Family Court, where the AO is adjudicated as a juvenile delinquent.
AOs staying in the Youth Part are treated as adults, but the judge considers the AO's age when deciding the appropriate sentence.